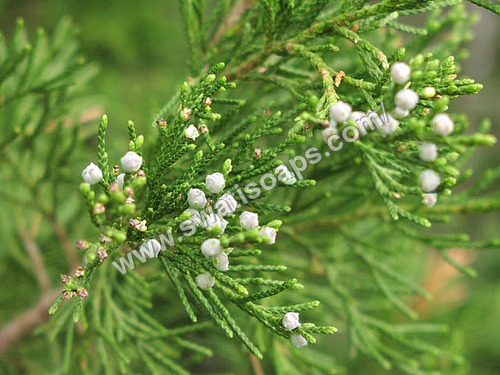 Cedarwood Essential Oil
Product Code : EO-11
150 INR
Price And Quantity
Minimum Order Quantity

:

100
Unit of Measure

:

Milliliter/Milliliters
Product Description
CEDARWOOD ESSENTIAL OIL
Weight: 10 ml bottle

Price: Rs.150.00/- per bottle
We are one of the foremost manufacturers, exporters and suppliers of an optimum quality Cedarwood Essential Oil. This oil is useful in various purposes such as to cure from acne, eczema and secrete extra oil from skin. Our offered essential oil is processed using steam distillation of natural cedarwood under the guidance of skilled professional keeping in mind of hygienic environment. This Cedar wood Essential Oil is available in various packaging as per the specification of client at affordable price.
Features:
Freshness
Rich medicinal properties
Long shelf life
Purity
Cedar wood Essential Oil is extracted through the process of steam distillation from the wood pieces of the Cedar Wood tree, which has the scientific name Juniper us Virginian (also known as Cedrus Doedara, Cedrus Atlantica, and Cedrus Libani,depending on the regions where they are found) in other nomenclature systems. However, the complicated names of cedar wood essential oil do not affect the medicinal uses of the oil, of which there are many.
Health Benefits of Cedar Wood Essential Oil
01. Antiseptic: Cedarwood oil prevents wounds from becoming septic as well as protecting them from tetanus germs. It can safely be applied externally on wounds as an antiseptic, and it is even used as an ingredient in herbal antiseptic creams. By defending the body against toxins, the cedarwood essential oil relieves the white blood cells and immune system of the extra stress, which allows them to better protect internal functions.
02. Anti-inflammatory: Although the studies have mainly been done on animals, early human tests have been very positive in terms of cedarwood oils anti-inflammatory effects on arthritis. The inflammation of the joints and tissues that results in such debilitating pain or discomfort can be somewhat lessened by the inhalation or topical application of the oil on the skin.
03. Sedative: Its popular use as a sedative might be the most unexpected and valuable aspect of Cedarwood oils medicinal properties. It is an excellent sedative, and has a great soothing and calming effect on the mind, cures inflammations, itching of skin, while relieving tension and anxiety.

Essential Oil Applications:
For acne, eczema, psoriasis, and oily skin, mix 2-3 drops in 1 ounce of carrier oil and dab on affected areas.
For dandruff, mix 2-3 drops with unscented hair conditioner; massage on scalp. Leave on for 3-5 minutes, then rinse.
A Few Words of Caution: Cedarwood Oil may produce irritations on the skin if used in high concentrations. Pregnant women should avoid its use altogether, and others should speak with their doctor before making any sort of drastic change, or adding something new to their dietary regimen. Unlike some essential oils, cedarwood oil cannot be ingested in any quantity. It is a highly potent oil, and can cause vomiting, nausea, and thirst, and extensive damage to the digestive system.
Blending: Oils like Bergamot, Benzoin, Cypress, Cinnamon, Frankincense, Juniper, Jasmine, Lemon, Lime, Lavender, Rose, Neroli and Rosemary form good blends with Cedarwood Oil.