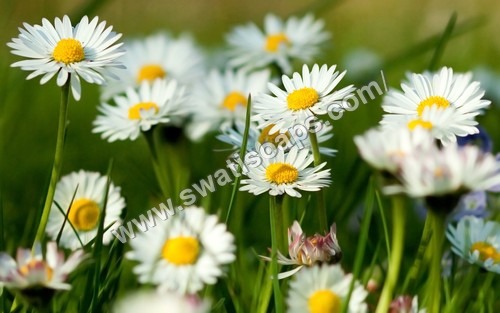 Chamomile Essential Oil
Product Code : EO-14
Product Description
CHAMOMILE ESSENTIAL OIL
Weight: 10 ml bottle

Price: Rs.350.00/- per bottle
Keeping in mind the varied requirements of clients, we bring forth a supreme quality Chamomile Essential Oil. This oil is useful in various health related problem such as depression, cuts and scraps. Our offered essential oil is processed by extracting natural herbs of chamomile plant under the guidance of skilled professional keeping in mind set industry standards. This Chamomile Essential Oil is available in various packaging options as per the requirements of clients at affordable prices.
Features:
Accurate composition
Purity
Zero side effect
Excellent result
Chamomile is an herb that people have used for centuries. People in the United States probably know it as tea to calm an upset stomach or to help with sleep. Two types of chamomile are used for good health: German chamomile (Matricaria retutica) and Roman (or English) chamomile (Chamaemelum nobile).
OIL PROPERTIES:
Anti-infectious, Anti-inflammatory, Calming, Relaxing
Health Benefits of Camomile Essential Oil
Stimulant & Antidepressant: Both varieties have been seen to be very effective in fighting depression and for raising spirits. They eliminate feelings of sadness, depression, disappointment, and sluggishness while inducing a sort of happy or charged feeling. Even smelling these oils can help a lot in overcoming depression and bringing about a good mood.
Anti-inflammatory & Sedative: While Roman Camomile is found to be effective in calming down annoyance, anger and irritation, particularly in small children. The German variety, on the other hand, is found to be more effective on adults for curing inflammation, particularly when it is located in the digestive or urinary system. They also reduce blood pressure and curb the swelling of blood vessels.
Antispasmodic, Relaxant & Nervine: They calm almost all nervous disturbances or hyper-reactions which result in convulsions, spasms, nervousness, and loss of control over limbs. They are Nervine, that is, they keep the nerves and the nervous system in a state of good health and proper functioning.
USES OF ESSENTAIL OIL:
Calming
Inhale directly or through steam (such as a bowl of hot water). Massage into the reflex points of the feet.
Cuts, scrapes, etc
May reduce inflammation and promote healing. Add to the bath water, dilute and massage over the area, or use a hot or cold compress.
Depression
The earthy aroma can be very grounding to our emotions. Diffuse in the area, inhale directly, or add a drop to your pillowcase or bath water.
Irritability
Add a few drops to your bath water, or shirt collar. Massage a drop across the back of the neck.
Muscle Spasms, Cramps, Tension, etc
Massage into the area with a carrier oil, such as coconut oil.
Rashes
Roman chamomile essential oil is very soothing to irritated skin. Add 3-4 drops into a teaspoon of carrier oil and massage into the area 1-2 times a day.
Restless legs
Massage into the legs and feet to soothe the nervous and muscular systems.
Add roman chamomile essential oil to your lotion, or use a very small amount of essential oil mixed with coconut oil for skin care.
Soothing
Whether it's physical soothing of the body, including skin, or emotional and mental soothing, use the oil aromatically or topically as you see fit.
Precautions
Both types of chamomile oil are considered non-toxic and non-irritant, yet since they do have emmenagogue properties when used in high concentrations, they should be avoided during pregnancy.