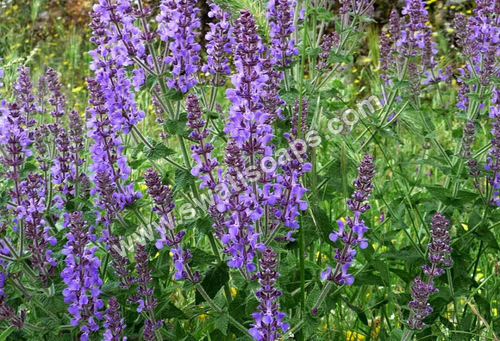 Clary Sage Essential Oil
Product Code : EO-15
350 INR
Price And Quantity
Minimum Order Quantity

:

100
Unit of Measure

:

Milliliter/Milliliters
Product Description
CLARY SAGE ESSENTIAL OIL
Weight: 10 ml
Price: Rs. 350.00/- per bottle
We are a renowned manufacturer, exporter and supplier of highly nutritious Clary Sage Essential Oil. This oil is highly popular for its various benefits such as to cure depression, stress, insomnia etc. Our offered essential oil is processed by extracting steam distillation of buds under the guidance of experienced professionals. This Clary Sage Essential Oil is available in various packaging for our valuable clients at affordable prices.
Features:
Accurate composition
Long shelf life

Zero side effect
Excellent result
Clary Sage Essential Oil is extracted by steam distillation from the buds and leaves of the Clary Sage plant whose scientific name is Salvia Sclarea. It is an herb, believed to be a native species of Europe, which has been highly praised as a medicinal plant throughout history, particularly owing to its numerous benefits for vision and eye health. It is a close relative of common garden sage, but it has a slightly different organic makeup.

Health Benefits of Clary Sage Essential Oil
Antidepressant: Clary Sage Oil can boost self esteem, confidence, hope and mental strength, thereby efficiently fighting depression. This can be very helpful for forms of depression due to failures in your career or personal life, insecurity, loneliness, stagnation, death of a friend or loved, and many other reasons. Clary Sage oil also relieves anxiety. As an antidepressant, it can be systematically administered to patients suffering from acute depression who are undergoing rehabilitation.
Antiseptic: Wounds will not become septic, nor will they be infected with tetanus germs if Clary Sage oil is topically applied to them. The antiseptic qualities can protect the body during periods of surgical recovery and in all varieties of wounds that are typically hotspots for infections.
Skin Health: More specifically, there is an ester present in Clary Sage essential oil called linalyl acetate, which reduces skin inflammation and heal rashes. Furthermore, it balances and regulates the production of natural oils in the skin, reducing both oily and dry skin and makes your skin look young and beautiful. It is recommended to be used directly, or mixed into a carrier agent like almond oil to facilitate maximum absorption and effect.
Sedative: Do you need to calm down? Do you want to concentrate? Or do you simply want to relax and have a good nights sleep? Clary Sage oil can help you with all of these. It reduces inflammations and has an undeniably calming effect. People suffering from chronic stress or anxiety disorders find great comfort in the use of Clary Sage essential oil.
Uses
Clary sage is calming to the nervous system, particularly in cases of depression, stress, insomnia and deep seated tension. It furthermore is a good tonic for the womb and female functions in general, such as painful periods, scanty menstruation and relaxation during labor, thus encouraging a less painful birth.
A Few Words of Caution: It can enhance the intoxicating effects of alcohol and other narcotics, since it is a relaxant and a sedative by nature. Heavy dosage can also cause headaches. Pregnant or nursing women should avoid using it, since there has not been enough research done on the transference of effects through breast milk to children. Also, it is slightly expensive, so save up your pennies!