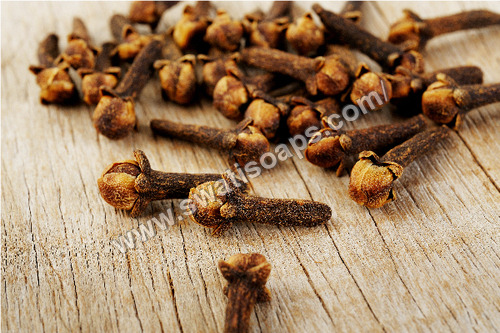 Clove Bud Essential Oil
Product Code : EO-16
250 INR
Price And Quantity
Minimum Order Quantity

:

100
Unit of Measure

:

Milliliter/Milliliters
Product Description
CLOVE BUD ESSENTIAL OIL

Weight: 10 ml

Price: Rs. 250.00/-
We are the leading processor, exporter and supplier of an excellent quality Clove Bud Essential Oil. This oil is highly popular in market for its rich aroma and cure from sinus infections. Our offered essential oil is processed by using high grade material under the guidance of skilled professional keeping in mind of latest standard. This Clove Bud Essential Oil is available in various capacities and sizes as per the specification of client at affordable price.
Features:
Effectiveness
Quick result
Accurate composition
Long shelf life
Clove is an evergreen tree which grows to 6.5 m tall and has shiny green leaves with dots of oil that are visible. The tree does not start producing the spice until it is 5 years old and then continues to do so for another 20 years. Being in the botanical family of Myrtaceae it is in the same family as the Eucalyptus and Tea Tree all which have an anit-infection action.
Health benefits of clove oil
Skin care: Clove oil is often recommended for skin care, especially for acne patients. The effects are best achieved when the oil is used in liquid form and spread on a clean, dry rag. You will find clove oil in many products for lessening the effects of aging, like wrinkles, sagging skin, and facial rejuvenation for the eyes because of its rejuvenating and stimulating properties, which can increase blood flow to unhealthy skin and make it look young again!
Stress: Clove oil is aphrodisiac in nature and therefore serves as an excellent stress reliever. It has a stimulating effect on the mind and removes mental exhaustion and fatigue. When ingested in appropriate amounts, it refreshes the mind and stimulates brain function. Clove oil also induces sleep and is helpful to patients suffering from insomnia. It is also useful for treating neural disorders such as memory loss, depression and anxiety.
Headache: Clove oil, when mixed with salt and applied on the forehead, gives a cooling effect and helps in getting relief from headaches. Clove oil has many flavonoids within it, which are anti-inflammatory agents. When topically applied to the temples or neck, that anti-inflammatory quality will ease the inflammation or tension that so often brings about headaches. For the same reason, clove oil is used as a pain reliever on other parts of the body, like joints and overworked muscles, to provide some relief from painful inflammation or swelling.
Ear ache: A mixture of warm clove oil and sesame oil is a good remedy for earaches. The clove flower is the source of that beneficial additive of this already powerful essential oil.
Immune system: Both clove and clove oil are useful for boosting the immune system. Its antiviral properties and ability to purify blood increases resistance to a multitude of diseases, because the antioxidants in clove essential oil scavenge the body of dangerous free radicals that cause a multitude of diseases like heart disease and certain types of cancer.
Precautions
Clove oil is a very potent oil and should be used with care. If it is used in a oil, lotion or cream applied to the skin, the concentration should be well below 1%.
It may cause irritation to the skin of some individuals and can easily irritate the mucus membranes. It should be avoided during pregnancy.
Clove oil blends well
It blends well with basil, benzoin, cinnamon, lavender, ginger, sandalwood and clary sage.