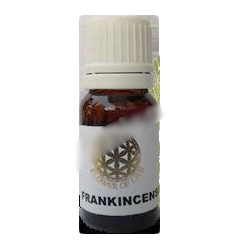 Frankincense Essential Oil
Product Code : EO-11
Product Description
Frankincense Essential Oil

Weight: 10 ml Only
Price: Rs. 400.00/-
Frankincense essential oil is a type of essential Oil commonly used in aromatherapy. Typically sourced from the resin of the Boswellia carterii or Boswellia sacra tree, frankincense essential oil is said to offer a variety of health benefits. Sometimes referred to as olibanum, frankincense essential oil is also used as an ingredient in perfume, incense, and skin-care products.

Oil Properties:
Anticatarrhal, Anticancer, Antidepressant, Anti-infection, Anti-inflammatory, Antiseptic, Antitumor, Expectorant, Immune stimulant, Sedative.

Health Benefits of Frankincense Essential Oil:
Apart from being used as a cosmetic and as a fragrance, frankincense oil has numerous medicinal uses, which are summarized below.

Immune System: Frankincense Oil is effective as an antiseptic, and even the fumes or smoke obtained from burning it have antiseptic and disinfectant qualities that eliminate the germs in the space where the smoke filters out. It can be applied on wounds without any known side effects to protect them from tetanus and becoming septic. It is equally good on internal wounds and protects them from developing infections.

Anti-Aging: As a Cytophylactic, Frankincense Oil promotes regeneration of healthy cells and also keeps the existing cells and tissues healthy. When you combine this aspect of frankincense oil with its powerful astringent capabilities, you have a potentanti-aging quality that frankincense oil is often used for. It can help you to eliminate sun spots, remove micro-wrinkles around the eyes and cheeks, and generally tone and tighten skin all over your body, while simultaneously replacing old or dying cells with new, healthy ones!

Stress and Anxiety: Frankincense Oil is very effective as a sedative, because it induces a feeling of mental peace, relaxation, satisfaction and spirituality. It also awakens insight, makes you more introspective and lowers anxiety, anger and stress. When feeling anxious or if you anticipate some sort of stressful episode, add some frankincense oil to a diffuser or a vaporizer. Frankincense essential oil promotes deep breathing and relaxation, which can open your breathing passages and reduce blood pressure, moving your mental state back to calmness.

Uses Of Oil:

Balance: Inhale frankincense essential oil whenever you're feeling overwhelmed. Diffuse in the room. Massage into the feet.
Brain (Aging): Use daily both aromatically and topically: massaged into the feet or body, inhaled or diffused, added to bathwater, etc.

Depression: Add a drop to steaming water, place a towel over your head and inhale until the steam stops. Massage into the pads of feet and the toes.

Immune System Support: Great during cold and flu season. Diffuse throughout the home and massage 1-2 drops into the feet daily, as needed.

Wrinkles: Gently massage into the skin in upward circular motions daily.
A Few Words of Caution: There are no known adverse side effects. That being said, frankincense essential oil should not be used during pregnancy, since it does act as an emenagogue and astringent.

Blending: Frankincense Oil blends well with Lime, Lemon, Orange and other Citrus oils as well as Benzoin, Bergamot, Lavender, Myrrh, Pine and Sandalwood oil. This makes it a popular element of many herbalists for various aromatherapy combinations.