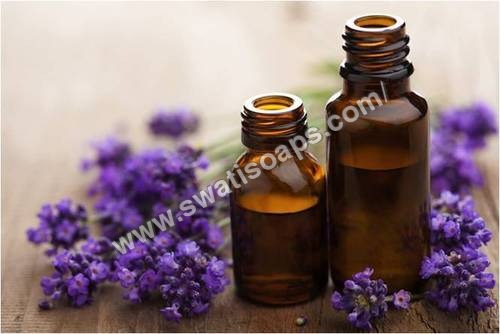 Lavender Essential Oil
Product Code : ES-08
350 INR
Price And Quantity
Minimum Order Quantity

:

100
Unit of Measure

:

Milliliter/Milliliters
Product Description
LAVENDER ESSENTIAL OIL
Quantity: 10 ml bottle
Price: Rs. 350.00/- per bottle
We are one of renowned processors, exporters and suppliers of an exceptional range of Lavender Essential Oil. This essential oil is highly popular among our esteemed clients for its various health benefits such as curing from acne, aching muscles etc. Our offered essential oil is processed by distillation from lavender flowers under the guidance of skilled professional keeping in mind of hygienic environment. This Lavender Essential Oil is available in various packaging at affordable price.
Features:
Accurate composition
Purity
Zero side effect
Excellent results
But lavender is much more than just pretty & calming. It is one of the most powerful remedies in the plant world, offering both physical and emotional relief for problems as varied as burns, migraines, insomnia, insect bites, skin problems, infections, stress and nervous tension. It owes this amazing spectrum of healing powers to its complex chemical makeup.
Lavender Oil Properties : Antidepressant, Analgesic, Antiseptic, Cicatrizant, Expectorant, Nervine, Vulnerary.
HEALTH BENEFITS:
01. Aching Muscles: If you've spent a back-breaking afternoon in the garden, jump into a lavender bath to soothe aches & pains away. Apply Epsom salts & a few drops of Lavender Oil to the bath and soak away the tension.
02. Acne: Lavender is one of the most valuable oils for the treatment of acne, according to aromatherapists. It inhibits the bacteria that cause the skin infection, helps to rebalance the over-secretion of sebum, which the bacteria thrive on, and reduce scarring Add a few drops of lavender oil to a plain cream sold by chemists and use as a moisturizer or cleanser.
03. Bugs & Bacteria: French laboratory studies in the early 20th century showed that lavender is a powerful antibacterial in dilutions of 5 per cent or less it is lethal to bacteria that cause typhoid, TB & diphtheria. Combined with Lemon Balm, for its clinically tested anti-viral properties.
04. Burns (minor): After you have cooled the area by immersing it in running cold water for 5 minutes, gently stroke on neat lavender oil. Pain relief is almost immediate, and burn usually heals without scarring.
05. Cuts & Wounds: Apply lavender oil to sooth pain, prevent bacterial infection and aid scar-free healing. Apply neat.
06. Eczema: Stroke infused lavender oil (a few drops of lavender oil & carrier oil) into dry, itchy skin, small children will find this especially comforting or add a few drops of lavender oil to calamine lotion, shake before use.
07. Headache: The distilled water of Lavender (Hydrosol) Mist around your head, is refreshing and soothing. Alternatively, make a compress of a piece of cause or muslin soaked in icy cold water then sprinkled with a few drops of lavender oil and apply to the forehead, or massage a few drops into the forehead, temples and nape of the neck.
08. Insomnia: In a number of small studies, elderly psychiatric patients have been shown to sleep better and be more alert during the day when their sleep medication is replaced with lavender oil either dropped on their pillows, or placed in a diffuser on the ward. To help to induce sleep, put 3 or 4 drops of lavender oil on your pillow. For babies, add 1 drop of lavender oil & geranium oil in carrier oil and massage into a babies back or a few drops in their bedtime bath.