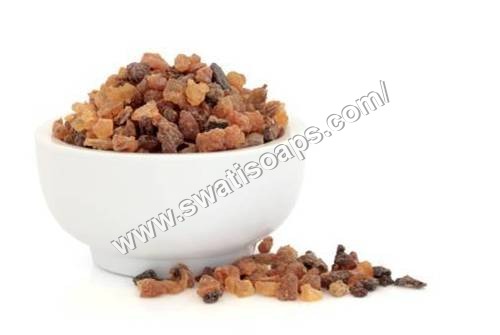 Myrrh Essential Oil
Product Code : ES-02
400 INR
Price And Quantity
Minimum Order Quantity

:

100
Unit of Measure

:

Piece/Pieces
Product Description
MYRRH ESSENTIAL OIL
Weight: 10 ml bottle

Price: Rs. 400.00/- per bottle

Myrrh is one of the best known of ancient spices. It was one of the three gifts borne by the Magi and was considered at par with gold. One of the implications of the Magi presenting baby Jesus with myrrh was that just as myrrh was a panacea for almost all known ailments, so would the baby be.
Ayurvedic medicine uses myrrh in almost all of its potions because of its medicinal properties. The medical properties of myrrh are only now being scientifically studied, and not surprisingly, it is being found to have a number of uses.
Essential Oil Properties:
Antimicrobial, astringent, expectorant, antifungal, stimulant, carminative, stomachic, anticatarrhal, diaphoretic, vulnerary, antiseptic, immune booster, circulatory, tonic, anti-inflammatory and antispasmodic.

Health Benefits of Myrrh Essential Oil:
Antimicrobial and Antiviral: Myrrh essential oil do not allow microbes to grow or infect your system. It can be used to prevent any ailment resulting from microbial infection, such as fever, food poisoning, cough & cold, mumps, measles, pox and infections of wounds. It has no adverse side effects, unlike other antibiotics, such as weakening of liver, or digestive malfunction.
Antifungal: Myrrh essential oil acts as a fungicide as well. It can be used either internally and externally to fight fungal infection.
Stimulant: Myrrh essential oil stimulates thoughts, blood circulation, digestion, secretions, nervous activity and excretion. It stimulates the pumping action of the heart, the secretion of digestive juices and bile into the stomach, and it keeps you alert and active by stimulating the brain and the nervous system.
Stomachic: Myrrh oil is beneficial for the all around health of your stomach.
Anti-catarrhal: This property of Myrrh essential oil relieves you of excess mucus and phlegm and troubles associated with that sort of mucus deposition, including congestion, breathing trouble, heaviness in chest, and coughs.
Diaphoretic: It increases perspiration and keeps your body free from toxins, extra salt and excess water from your body. Sweating also cleans the skin-pores and helps harmful gases like nitrogen escape.
Vulnerary: This property of myrrh essential oil protects wounds from infections and makes them heal quicker.
Antiseptic: If you have a health amount of myrrh essential oil, you don't need to worry about small cuts and wounds becoming infected. This oil can take care of them and will not let them become septic, since it is an antiseptic substance. It can protect you from tetanus as well to some extent.
Immune Booster: Myrrh oil strengthens and activates the immune system and keeps the body protected from infections.
Anti-inflammatory: Myrrh essential oil sedates inflammation in various tissues in cases of fever or viral infections, in the digestive system resulting from ingestion of too much spicy food and in the circulatory system when something inflammatory or toxic enters the blood stream.
Antispasmodic: It also provides relief from unwanted contractions or spasms and therefore eases cramps, aches, and muscle pain.